Reading time: ~4 Mins
When you're a fresh search engine optimizer, shopping for SEO tools can be a daunting task. With differing prices ranges, levels of data quality, bells, and whistles; it can be difficult to find the one that's right for your (or your agency's) needs.

To make it easy for new SEOs, we compared the 3 most popular SEO tools over 5 criterion we believe are the most important features for SEO tools: the API, backlink analysis, keyword research, competitive audit, and technical audit. Each criterion is rated on a scale of 1-3, rated on its relative quality to its peers (1 being the best of the three, 3 being the worst). Each criterion is then weighted by its importance.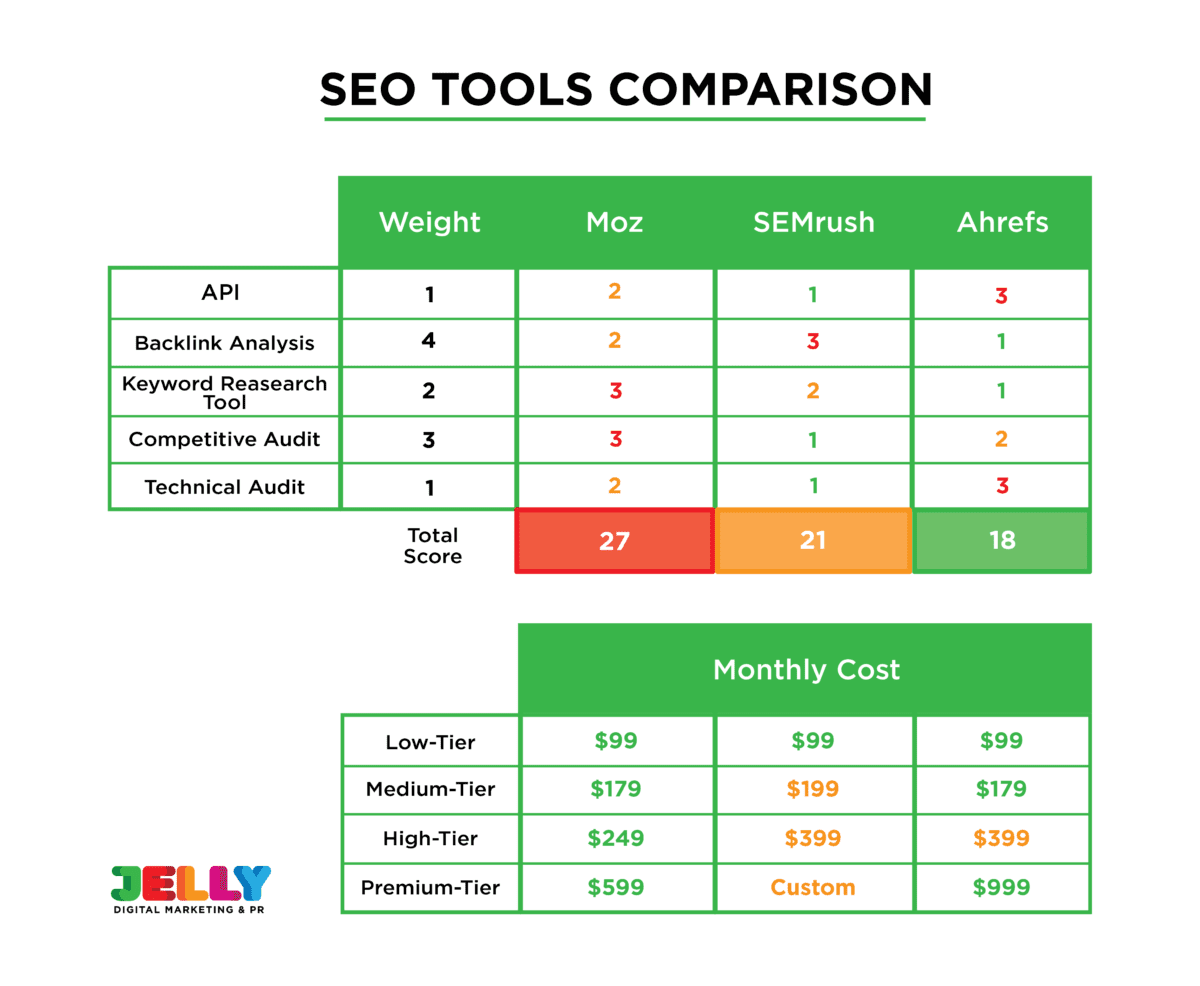 How Are We Comparing Them?
API Access
An application programming interface is a communication protocol between different computer programs that allows them to interact with each other and share data. For marketers, a software with a robust API facilitates reporting as it allows reporting software to pull the information it needs (rather than a human needing to log in and manually export data every report).

We gave API a weight of 1 because, while a robust one is nice to have, it's not an absolute necessity for most marketers unless you're writing your own software.

Backlink Analysis
Backlinks are arguably the most important ranking factor, so having an SEO tool with a strong backlink analysis feature is paramount. Knowing where your competitors are getting their backlinks from can present link-building opportunities and neutralize your competitors' edge. As such, we've given this feature a weight of 4.

The challenge with building a good backlink analysis tool is that it requires an extremely large and sophisticated database that can store the link data of every website on the internet. Since a database of this magnitude is extremely expensive to build and maintain, not all backlink analysis tools are created equal.

Keyword Research Tool
Every SEO needs a good keyword research tool to identify high-volume queries to chase after. While important, there are many free keyword research tools out there and most agencies have access to Google Ads' Keyword Planner if they have high PPC budgets. As such, we've given this a weight of 2.

Competitive Audit
Knowing what your competitors are ranking for can help you identify ranking opportunities you never thought of. Additionally, if you're running PPC campaigns, some competitor auditing tools can show you what keywords they're bidding on (though take this data with a large grain of salt). Since SEO is extremely competitive, we've given this feature a weight of 3.

Technical Audit
User experience is a major ranking factor and a major part of that your web page's loading speed. A good technical audit tool can identify anything that might be causing your page to load slowly or stopping it from being mobile-friendly.

Despite its importance for SEO, there are so many free (and better) technical audit tools out there, that we've given this feature a low weight of 1.
How They Compare
1. Ahrefs
Ahrefs is the clear winner here, mainly because they have the largest backlink index – the most important feature in an SEO tool. Their new keyword research tool is also amazing for analyzing keyword data, surpassing SemRush's keyword magic tool. Their technical audit tool is disappointing and their API access leaves a lot to be desired, but these are less of a priority. For roughly the same price as the competition, it's a no brainer for link-junkies.
2. SemRush
SemRush is a close second and could easily surpass Ahrefs if they invested more resources into their backlink index. Their API is the most robust of the 3, their technical audit tool is thorough, and their competitor audit contains (arguably) the most accurate competitor PPC data (though should still be taken with a large grain of salt). For the same cost as Ahrefs, this is definitely a tool we'll be watching as they improve its features.
3. Moz
Moz used to reign supreme for having the largest backlink index and, for that feature, comes second to Ahrefs. They were a go-to for keyword research, but SemRush's and Ahref's new tools have surpassed theirs. One feature that is super useful is their business listing analysis tool and we're hopeful that SemRush and Ahrefs add something similar, but it's not worth a subscription in of itself. For a near identical price to the other two, it's not currently the best option. We're excited to see how Moz changes in the coming years.
Stay updated on the latest SEO updates and all things digital marketing by subscribing for our newsletter.