PR Agency Jelly Marketing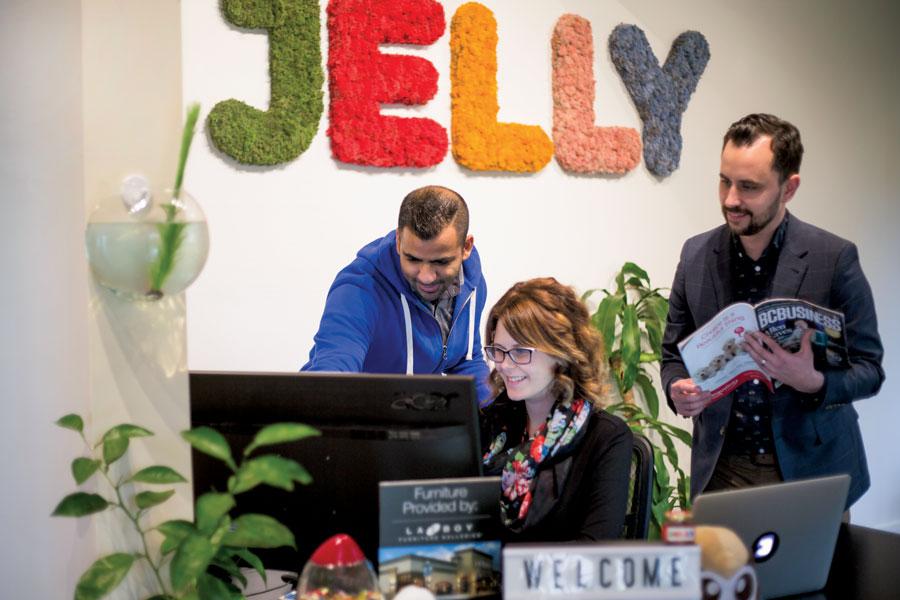 When imagining where the leaders of a digital-primary, tech-savvy future might set up shop, the historic town of Fort Langley isn't the first place that comes to mind. Yet, that's exactly where Jelly Marketing­—a digital marketing and PR agency—saw ample opportunity to grow. The village community, with its mix of urban hustle and small town values, is nostalgic of Jelly's humble beginnings in Gastown. Not to be underestimated, the team at Jelly maintains that big city tenacity without losing their charm. In short: they get the job done but you'll feel like part of the family along the way.
Principal Darian Kovacs—who keeps a Jelly Bean dispenser at the office's entrance— has always strived for unique ways to connect people with opportunities and ideas; ideas that get brands like La-Z-Boy, Furniture Galleries, Sussex Insurance, Vancouver Giants, Ethical Bean, Trading Post Brewing Spa Utopia, Spence Diamonds and many other Jelly clients, thinking outside the box.
"Not only do we get to do creative campaigns that help brands and organizations grow, but thanks to today's technology, we can also figure out exactly where the wins and leads are coming from," says Kovacs.
Jelly takes pride in being agile and responsive—something you simply won't find at other, larger firms. In today's fast-paced world, the digital landscape is evolving at such a rate that businesses are often hard-pressed to keep up. If you aren't accustomed to how quickly things happen these days, it can feel like trying to jump on a moving train.
The team at Jelly are experts at designing social media strategies with engaging content to target your ideal demographic. By using online analytics, it can pinpoint your audience and track progress so your business gets effective results without wasting time or money.
"We have a great trust in the Jelly crew," says Harold Frederiks, general manger of Splashdown Waterpark. "We allow [them] to steer the digital side of our business without hesitation."
While social media, PR and digital advertising are the pillars of Jelly's business, it's the agency's ability to combine the trio to provide comprehensive amplification for any brand that sets them apart. It's those core competencies, combined with the refined ability to measure results and ROI, provide SEO services and a whole lot more, that enables Jelly to retain incredible clients.
"Jelly has been a huge help in running our social media presence," says Michelle Dunn of La-Z-Boy Furniture Galleries of Greater Vancouver. "The Jelly team are always there for us to ask a question and we always get a thorough explanation that we understand."
Though the firm works primarily in an online world, building authentic relationships offline is paramount. It begins with transparency, a welcoming workspace and something they call a "fail fast" philosophy (it's even a framed quote on the office wall). Although they push the boundaries, if something isn't working, they realize it quickly and adjust accordingly. By failing fast, they progress quicker.
Fort Langley is the kind of place you can really grow a business and make a difference. When Kovacs and his team pull up to the brightly coloured office, it's the beginning of limitless possibilities. In a nutshell, the location jives perfectly with the team's identity—kind of like peanut butter and… well, you know.
Originally posted in BC Business