We joined forces with the New Westminster-based team of web designers and developers in something we call an "anti-merger."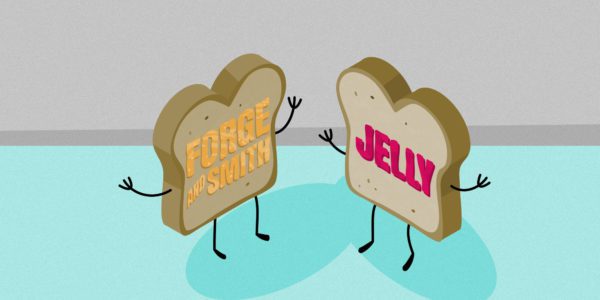 Two are better than one. When Jelly Marketing and Forge and Smith first started working together earlier this year, it became obvious that combining resources would be advantageous for both companies and their clients.
What does this mean? They are affirming their partnership and expanding the resources available to existing clients and potential new ones, without losing their distinguished culture or combining offices.
Mind. Blown.
In a world where more businesses are amalgamating and compromising what sets them apart, we are doing the opposite. We recognize our own strengths, but also see the value the other brings to the table. That's why we are coming together in the most unique way. Picture two sturdy trees standing above ground – each with their own branches of expertise – but below the ground, their roots are intertwined and working synonymously to provide growth and opportunity for clients.
Forge and Smith is a small team of designers, builders, and thinkers who specialize in customized user experiences, website development, and digital marketing strategies.
The team at Jelly Marketing are experts in combining social media, PR, and digital advertising to provide comprehensive amplification for your brand.
The multidisciplinary team at Forge and Smith have worked with an impressive roster of clients that stretches across Canada and the US, with a portfolio that includes Webber Naturals, Canadian Olympic Committee, Sussex Insurance, JJ Bean Coffee, Discovery Channel, Greater Vancouver Food Bank, and many others.
Ultimately both companies want to tell your story, engage your audience, and get you effective, efficient results. We believe in thinking outside the box, building strong relationships with our clients, and – most importantly – getting ROI.
The partnership truly does represent the best of both worlds by ensuring not one of your online marketing needs are left out. Forge and Smith's SEO-empowering content, UX strategies, and dedication to building the best website for your business will complement Jelly's social media, PR, and digital advertising savviness. Unlike other companies that come together and have to give away part of their pie, we decided to just create a bigger pie using the best ingredients each as to offer.