What is Search Engine Optimization (SEO)?
SEO is the process of performing a series of on-site and off-site optimizations so that your site ranks higher on Google (and other search engines) for keywords that are important and relevant to your business. This is often referred to as ranking higher organically.
What are Keywords (KW)?
Keywords are terms or phrases that customers use to find your business or businesses that are similar to yours. They are usually researched through Google Keyword Planner, or whatever rank tracking tool your agency uses (note not all volume metrics are completely accurate, usually they are estimates based on previous searches).
Click-Through Rate (CTR)
How often people that see your page listing on Google search (as Ads or Organically) click on your link on Google search results pages. A quick formula for this is – impressions/clicks = CTR
Search Engine Results Page (SERPs)
This usually refers to any Google (or any other search engines) Search Results.
SEO Titles:
This is the primary title of your page. This is modified on the backend and is what has a major impact on how well you rank for your KWs, and thus should be modified around them. Google and other search engines read what the SEO title is and then decide where (and if) you should rank for that term.
It is always a good idea to optimize your SEO titles based on the KW, and/or ensuring your topic is relevant. There is a character limit for SEO titles, it should not exceed 72 characters, otherwise, Google will either ignore and rewrite your titles, or just read part of it. This also helps with CTR as it is also describing what your page is.
For example, it should follow this format when possible '[Page] | [Keyword] | [Business Name]' -> About Us | Local Digital Marketing Agency | Jelly Digital Marketing & PR
Example on SERP:
Meta Descriptions:
This is the text which describes what the page is about. You can edit this on the backend; if you don't add a meta description Google will generate one and they can sometimes be nonsense. Not a ranking factor technically, but it helps with CTR.
These meta descriptions are the description you see on Google search results.
Example on SERP:
Alt Tags:
This is basically the text that describes an image on the website and is used to help Search Engines better understand your photo (normally you only see this on the backend as it is in the HTML code).
Best Practices:
On-Site SEO:
This is basically any optimizations or SEO work done on the website itself.
Usually, this involves optimizing pages and page content around a KWs, ensuring meta descriptions are all filled out, adding the KW in the copy (or a close version of the KW the makes sense in the copy), optimizing Alt tags, and creating content based on relevant keywords/topics.
Off-Site SEO:
This is anything involved in creating and cleaning up citations (only relevant for local businesses with physical locations) and creating/obtaining backlinks.
Citations:
Citations are only relevant to local businesses. The more citation directories your business is in, the better chance your business will show up higher on Google Map search and the Google Map pack that shows up on the Google search results.
Not all directories are equal, some are better than others, such as Google My Business, Bing Places, Yellowpages, Yelp, Foursquare, ect.
The most important part of citations is ensuring any citation listings of your business have a consistent name, address, phone number (NAP), also important to include your website URL info where possible.
Map Pack SERP example: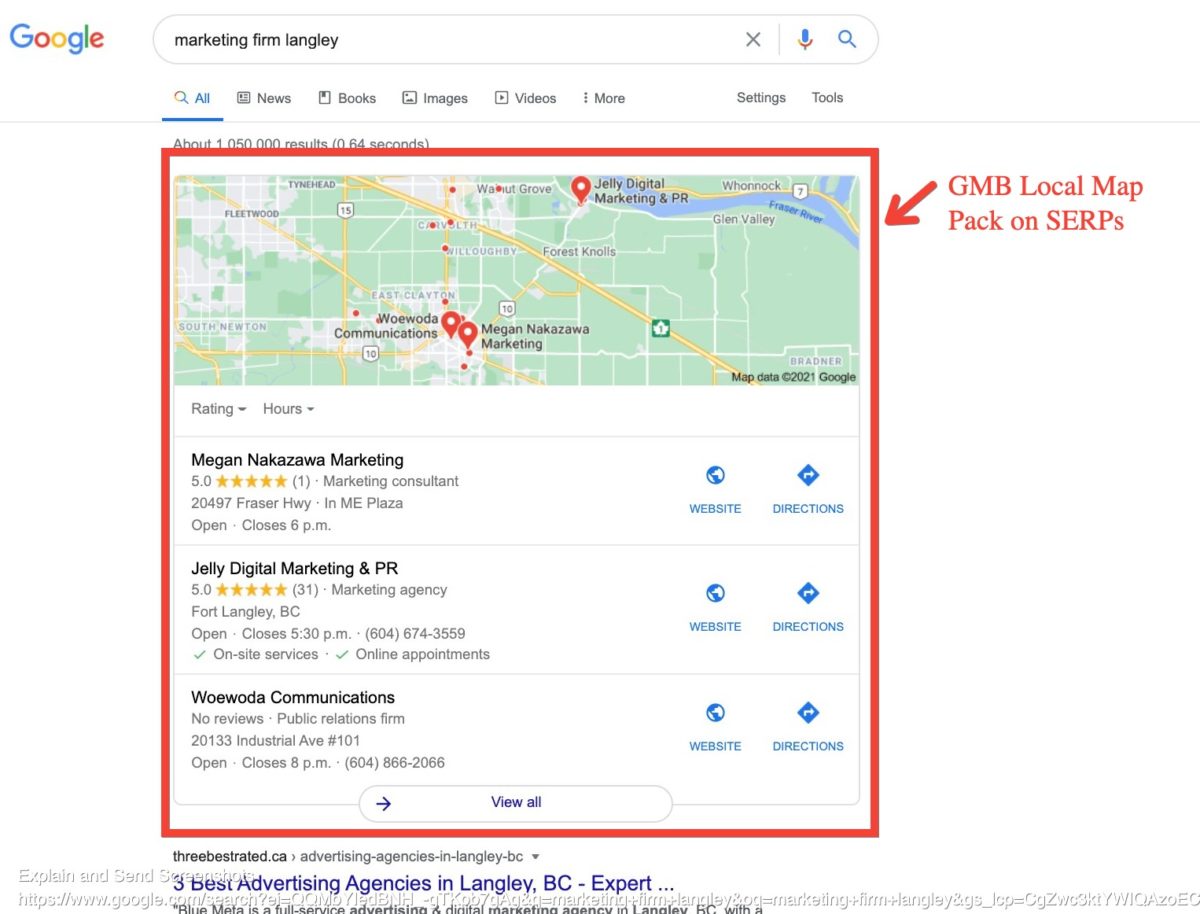 Google My Business (GMB):
The single most important directory on the internet. It's a free listing that Google offers, anytime a customer searches for your name, your knowledge panel will appear on the left-hand side which will provide information such as opening hours, website URL, the phone number to call your business, description of your business, ect.
It will also allow your business to be discovered organically for terms that are important to your business in the map pack. For example, the GMB listing will show up for search such as 'local digital marketing agency fort langley', and without GMB you cannot rank on the map.
GMB example: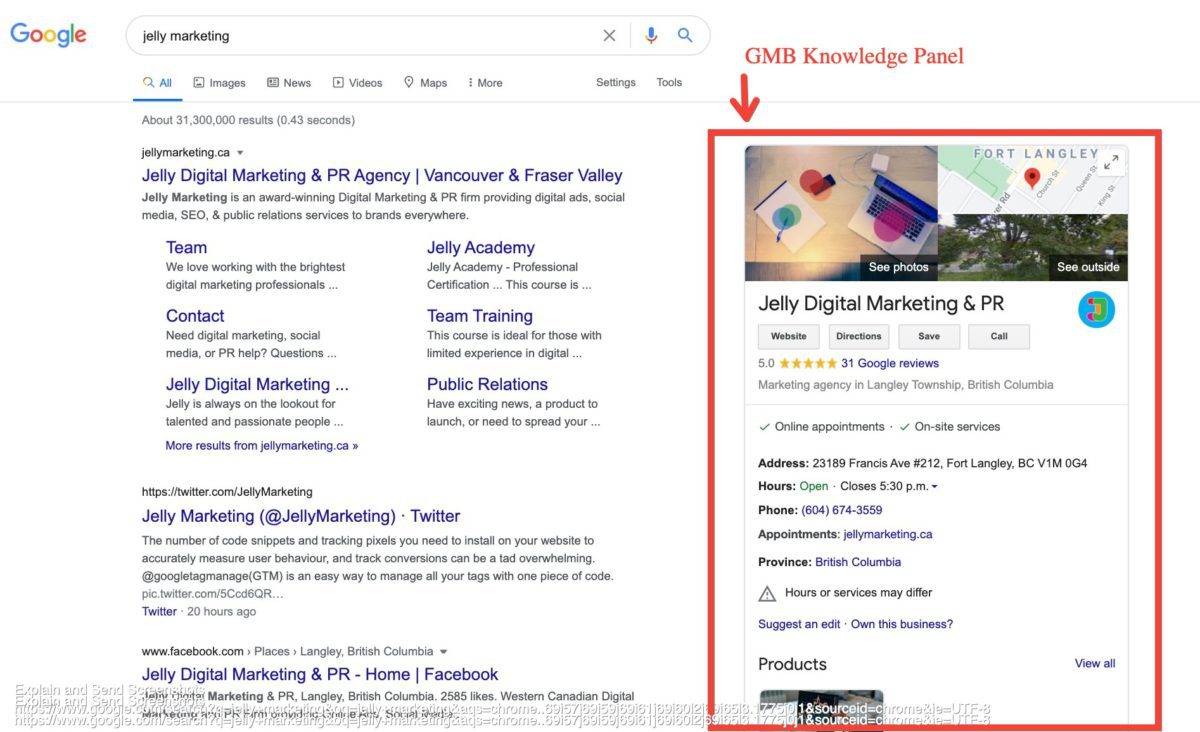 Backlinks:
This is one of the most important ranking factors for SEO, it is also one of the most difficult to improve upon as a lot of it is out of your hands, and depends on others willingly linking back to your site.
The idea is that the more links you have, the better your website will rank because it will send a signal to Google and other search engines that your website is important, relevant, and an authority on the subject, so each backlink is a vote of confidence.
Not all links are equal, however.
The best type of links are usually from high authority websites (national papers, sites that are relevant to your business niche, etc), as well as obtained links from sponsorships from large organizations, government, and educational sites. Local backlinks from your area of operation are also valuable, especially for local businesses; these can include local papers, local sponsors/partners, other local businesses, & local papers.
Google Algorithm/Ranking Factors:
Google's algorithm is machine-based and Google is constantly updating it and making tweaks. Occasionally there are bigger updates that can have a big impact on searches overall (sometimes they affect certain industries more than others, other times it affects all results).
Google's algorithm ultimately determines where your site ranks for certain keywords which is why we always recommend following best practices and white hat SEO (not doing shady practices to rank your site higher) that way your site can rank to the best of its ability without having to worry about it dropping off a cliff due to new algorithm changes.
You cannot pay to increase your rankings, all you can do is follow best practices and earn your way up.