With so many tools out there for search engine optimization (SEO), finding the right SEO toolkit for your (or your agency's) needs can be especially challenging. To make it easier for you to consider your options, we've compared our current SEO audit toolkit to Semrush to see if Semrush can provide a comprehensive all-in-one alternative.
The Combined SEO Toolkit Approach:
Ahrefs
You can use Ahrefs for a variety of different purposes including:
Using the Site Explorer tool to analyze and research each client's backlink and referring domain profile
Using the Rank Tracker tool to track keyword performance for each client, plus you can use this tool to track your dream keywords against ten of your competitors
Screaming Frog
You can use Screaming Frog (SF) to look specifically at on-page SEO issues such as missing or duplicate SEO title tags, meta descriptions and alt tags as well as to discover any broken links.
SEO Toolbox Site Check-Up
You can use the SEO Toolbox Site Check-Up tool to look at technical on-page SEO fixes such as whether CSS or JavaScript (JS) files need to be minified or if structured data needs to be added.
All-In-One Alternative:
Semrush
Semrush contains a comprehensive set of tools ranging from SEO to content marketing to advertising and social media management. Looking specifically at the SEO tools, this tool offers solutions for:
Keyword Research
On-page SEO
Local SEO (at an additional cost)
Rank Tracking
Link Building
Competitor SEO Analysis (at an additional cost)
It is also helpful to note that Semrush offers tools for paid advertising including PPC keyword research.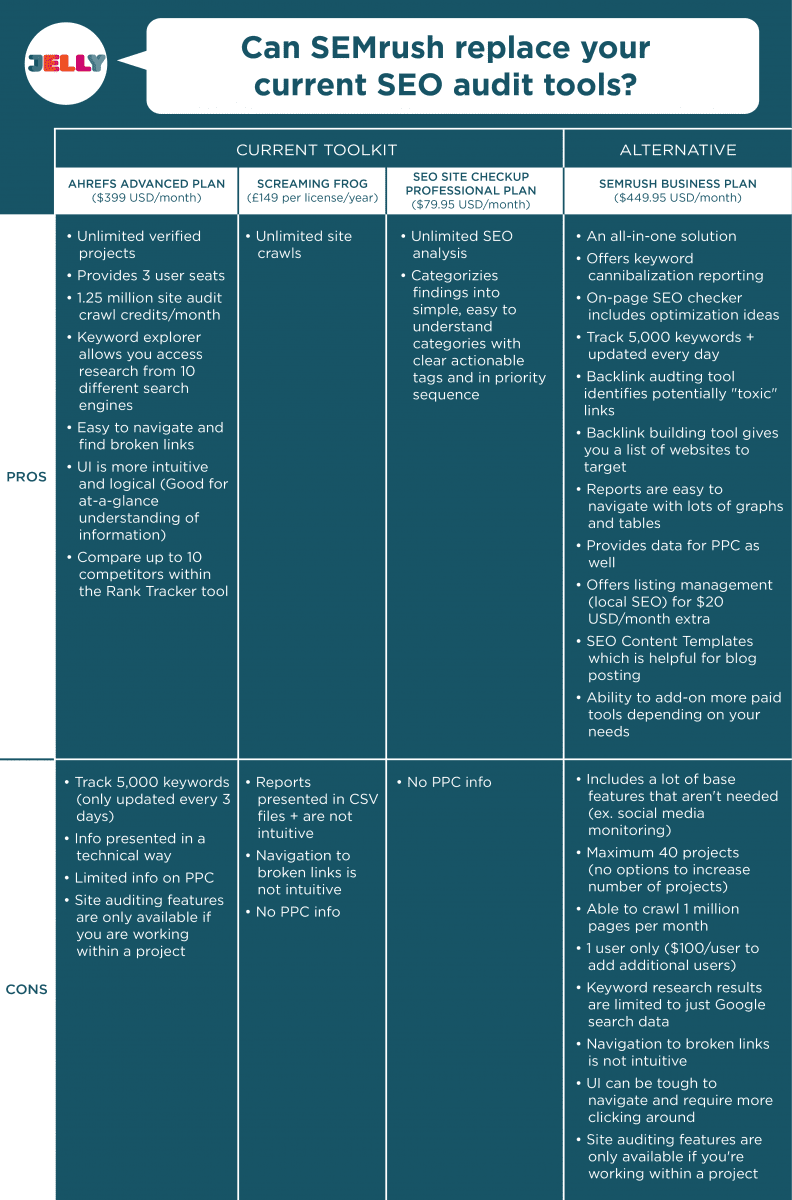 How the Tools Compare:
It really depends on what your needs are! Both Ahrefs and Semrush are going to provide you with comprehensive solutions to accomplish your SEO goals. We found that the Ahrefs user interface was generally more intuitive and logical, but Semrush reports provided easy to navigate reports with clear actionable insights. Here are our recommendations:
We recommend Semrush to those who are newer to SEO practices or are working on an in-house marketing team to complete SEO work for their company. Semrush provides you with over 40 tools to complete various marketing tasks and approaches reporting in a less technical way than some of the other tools we've highlighted.
For those who are more experienced optimizers or are working in an agency setting with multiple clients, we would lean towards using Ahrefs or creating a custom toolkit depending on what your needs are. While Semrush does offer a comprehensive toolkit, all the additional upgrades (including adding additional users) and add-ons may be cost prohibitive to your needs.