Google My Business (GMB):
GMB Profile Set Up
Ensure your GMB profile is fully completed. Fill out everything in your GMB profile including all additional categories, attributes, services, & products where relevant. These are more crucial than ever as it can affect how well you perform in local searches via Google search, as well as provide more information about your business. Too many businesses do not take advantage of this.
Google Posts
Google Posts are posts that show on your Google My Business page. You should be constantly updating it with any important articles about your business or your field to enlighten your customers. It's also a great platform for promoting any events about your business, as well as any products or services you offer and want to highlight.
Hootsuite:
The Benefits of Scheduling Posts
Plan, create, and schedule content with the Hootsuite scheduling platform. Hootsuite lets brands organize and plan content for the future in a clean and easy-to-use manner. By using the publishing tool, you can rest assured knowing that your content is set for the month. Posts are easy to make and can be personalized to each of your social platforms. Write some creative copy, add your image, and pick the best day and time to schedule. That's all there is to it!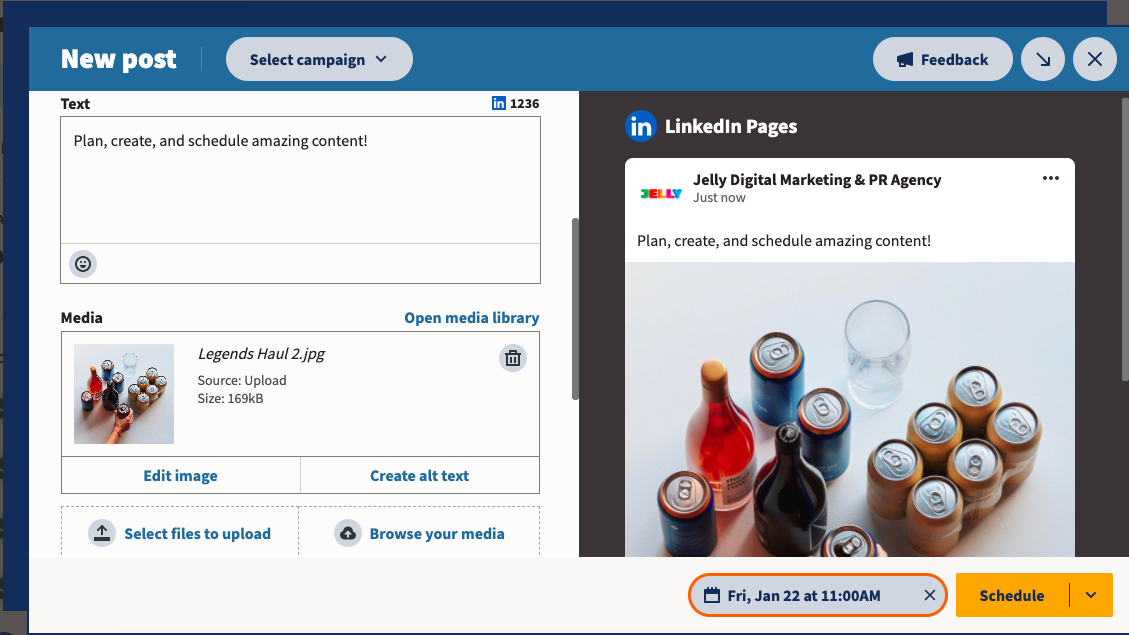 Measure your Content with Analytics
Keep track of your social media marketing efforts by making use of Hootsuite analytics. The Hootsuite Analytics are an effective way of reporting the number of posts you create, as well as their outcomes amongst all social channels. Don't waste your time on content that is not engaging with your audience. Start tracking meaningful metrics and using them to better your content calendars in the coming months.
Facebook:
Facebook Policy Changes for Real Estate:
As of December 3rd of 2020, Facebook implemented a strict policy update that was felt throughout housing and real estate industries.
All ads related to housing must now be labelled as being under a "special ad category" ahead of time, which limits the targeting options available, much to the dismay of real estate advertisers everywhere.
Why the Change?
If 2020 has made anything clear, it's that racial (and economic) discrimination is still alive and well in modern society. With Facebook's previous lack of policies, it was easy for advertisers to exclude people of specific cultures, religious groups, economic status, and others from seeing their ads; allowing developers to pick and choose which types of people would end up living in their communities.
Is This a Good Thing?
While having limited targeting options presents certain challenges, running a successful campaign is far from impossible! The reality is that people of all cultures, religions, and ideologies are looking for homes to live in. Including them only increases the potential number of buyers! This is a step in the right direction – for everyone!
What are the New Restrictions and How to Comply?
Age targeting must be 18+.
You must target all genders.
Certain interests are off-limits (they show up in the interests search, so no need to know which ones specifically).
Location exclusions are no longer available and radius targeting now has a minimum of 15 miles. You will need to be creative with pin drops (hint hint).
Lookalikes audiences are no longer allowed (it turns out algorithmically created audiences can still be racist).
Despite the extra challenge for advertisers, this is a step in the right direction for Facebook and our society as a whole. If you work in real estate advertising, there is no need to worry. Running a successful campaign is still very much possible!
Adobe Lightroom Mobile:
Lightroom Mobile has been available for mobile devices for some time now, but there has never been a better time to include it in your workflow. Lightroom gives you a whole bunch of amazing editing and organization tools for free and can be expanded upon with a Creative Cloud Membership, costing $12.99 CDN/Month and including the desktop versions of Lightroom and Photoshop. Our favourite feature on Lightroom Mobile is the ability to seamlessly switch between editing on a computer and editing on a phone or tablet. Your changes are automatically synced to all devices (with a creative cloud membership). The mobile version also has a camera application built in that allows you to capture RAW photos and manually adjust settings like white balance, ISO and shutter speed. Just like on a DSLR having these manual controls allows you to take control of your photography in a way that just isn't possible with most built in camera apps. If you're looking to step up your mobile photography or want to be able to organize, edit and share your professional work Lightroom Mobile is a great addition.