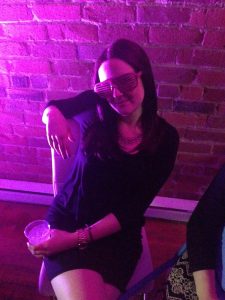 Name: Sarah Chapman-Funston
Position: Brand. Logistics. Marketing
What is your company? Pink Buffalo Films
What do you do?
Pink Buffalo Films is a content creation company that excels in brand development and awareness through live action, graphic and animation video. We are at the forefront of Video Production, and work in a wide range of industries that find homes on web platforms, social media and broadcast media, and that is just to name a few. There is no better way to communicate with your target audience than with a well-developed video. We believe that you should not just tell your customer what you want them to know, you should show them. Here at Pink Buffalo Films we believe that video can truly affect change in the world. If a picture is worth 1,000 words, video is worth much, much more.
What is your passion?
Our true passion is to create content that effects the mind of the viewer. Emotionally and intellectually. We are deeply passionate about creating content that helps push our clients brands forward while also following their guidelines and voice to ensure our content fits seamlessly into the rest of their marketing initiatives. We are the experts for our clients. We go to them with a plan and a vision. Digital content is our world, so we produce a creative plan to best demonstrate their brand through film. Our staff is a collection of awesomely creative individuals and we are all passionate about creating digital content, but of course we all have our favourites. We could say collectively as a group we love movies, coffee, foosball and travel… to name a few.
What is the biggest misconception clients have about your brand?
The biggest misconceptions people have of our brand is that we are only a production house. We are so much more than that. We don't just shoot and edit the footage, we work closely with our clients to create a true creative partnership. Our team takes the time to understand our clients, and what message they want to send to their viewers. We create the content from concept to storyboarding to finally filming and editing. All while communicating closely with our clients. We bridge the gap between creative agency and production house. You can get it all in one place with us, and maybe even a game of foosball and beer while you are at it.
What is your biggest challenge when it comes to your business?
Educating clients on all the elements that need to go into making a high quality film and the costs associated with it.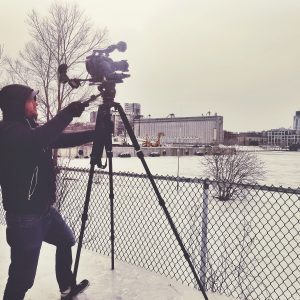 What is your biggest achievement so far?
Pink Buffalo Films is only about five years old and we've already produced 2 full-length feature films, a documentary and countless TV and web content and commercials that air all around the world.
How do you handle failure?
At Pink Buffalo Films we don't like to think of it as failure. For us if a project gets a wrench thrown into it, we see it as a chance to adapt while still getting a final product that we are proud of. We learn from it so we can make the next project even better.
What would you be doing if you didn't do this?
If I wasn't managing the Pink Buffalo brand, and money was no object, I would most likely be travelling the world experiencing art. I have a Bachelor of Arts in Art History from UBC, which is what originally drove me to seek out an intensely artistic company like PBF. So maybe I would be working towards a Masters in Art History? I like to think everything happens for a reason, so I would I think Pink Buffalo Films would find me eventually if I wasn't here now.
What is your favourite jelly??
Strawberry, because it's pink…obviously.