Although there has been recent progress in movements such as diversity in the workplace and equal pay for women, we are still far from where we should be. This goes for marketing as well and the lack of representation in advertising. Recent events involving Canadian outdoor retailer, Mountain Equipment Co-op (MEC), brought this issue to my attention.
On October 22, I received an email from MEC. Though their newsletters land in my inbox, I typically delete them before opening. This time, however, the subject line caught my attention – "As a co-op, we've fallen short". Instead of hitting the garbage bin icon, I clicked to open the email. I proceeded to read an open letter from[SD1] MEC CEO, David Labistour, titled "Do white people dominate the outdoors?", another striking headline.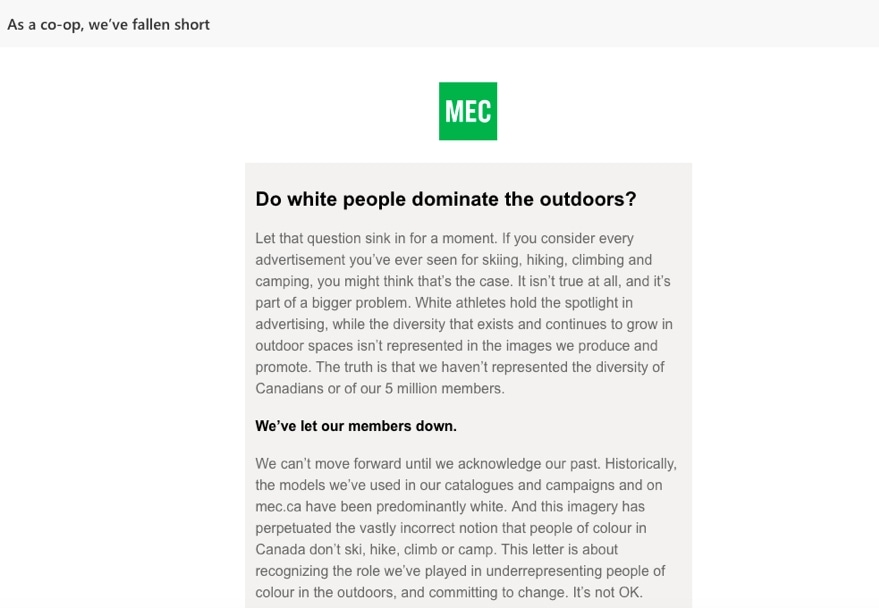 This open letter to the members of the co-op was sparked by a video made in March 2018, calling out MEC for underrepresenting people of colour. See video below.
For years, MEC had run campaigns that featured a predominately white outdoor community. In this day and age, that won't fly, and it was about time for a change. Instead of denying allegations or trying to defend their campaigns, MEC took a humble approach, owning up to their mistakes and making a switch to change for the better.
Previous MEC campaigns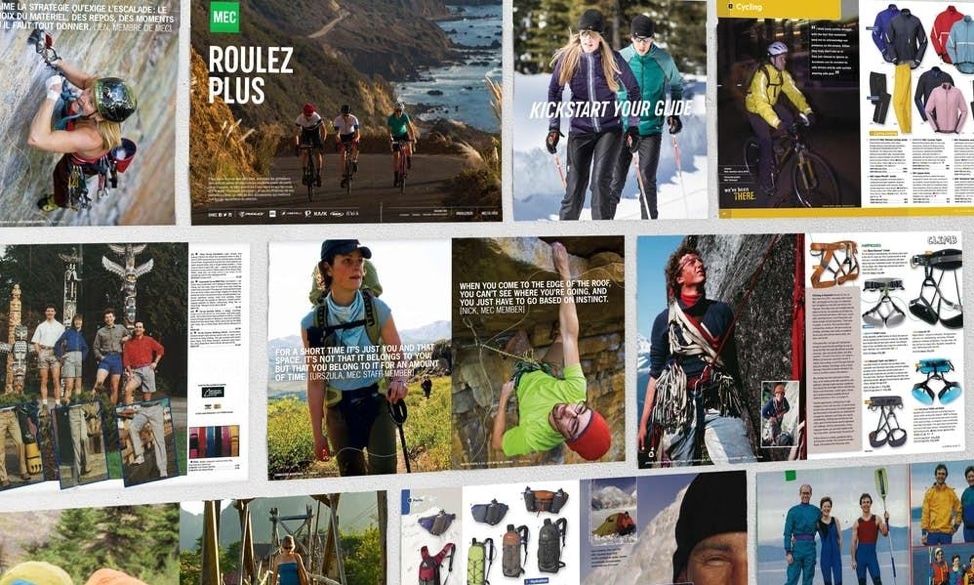 "Outside is for everyone. It's time we acted like it".
MEC has since launched their diversity campaign, a page that features the video that sparked it all, stories and profiles of ambassadors from all over the world, and a place to give feedback because "change is happening, but we're far from finished".
Earlier this year, Shutterstock released a statement after recognizing a push for diversity in their images (that many businesses use in their advertising campaigns).
Our research shows that globally, marketers are shifting their attitudes and selecting images, primarily, to represent modern day society. Marketers are also recognizing that choosing images that are relatable to diverse groups benefits their brand's reputation. Striking a chord with consumers is no longer about serving them images of perfection, as social media has helped to change how people view images. Consumers prefer images that accurately portray the world around them, as opposed to a perfected version of the world offered by marketers." – Robyn Lange, Shutterstock Curator
What does this mean for the marketing industry? It means that we're all being challenged – challenged to represent our audiences accurately and equally. It means research and surveys and focus groups that lead to discovery and understanding of all cultures, communities, and orientations. It means change. And it means progress.