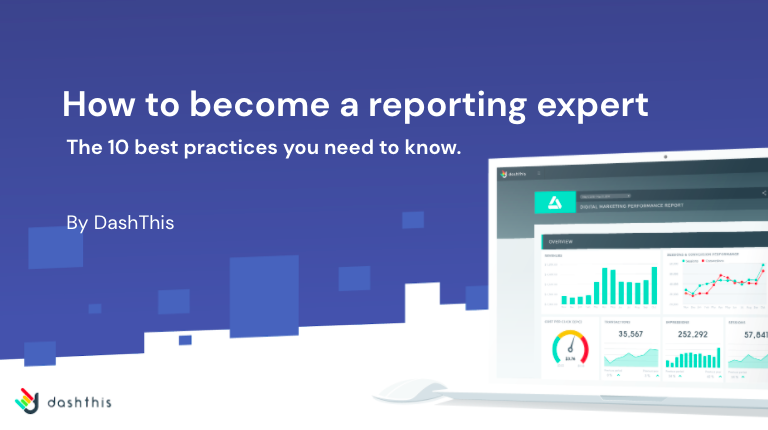 DashThis recently provided an awesome presentation on the 10 practices you need to know on becoming a reporting expert. Read below to learn more about their recommendations!
Know your audience
It seems like a no-brainer, but with different audiences, comes different types of reports. Depending on who you are talking to, you should present different KPIs and modify how you discuss your results.
For example, managers and CEOs generally want to know about the "money" aspect of your work, such as Transactions and Revenue metrics. Whereas, marketing specialists might need more precise information and detailed insight for their own work. You can also adapt your language and how much you need to explain certain concepts to fit your audience when discussing the results.
Context is everything
A lot of data needs context in order to be understood. Your clients (or boss) don't always know what's a good conversion rate, or how much traffic is a good amount of traffic. They don't know because it isn't the same for every business. To help you out, you should compare your data:
Month over Month
Year over year
With some industry benchmarks
Less is more
Don't let vanity metrics crowd your reports. If this isn't in line with your (or your client's) objectives, it shouldn't be in the report. It's as simple as that!
Having reports with too much information will only make it harder to read and understand, and it will put the focus on irrelevant data instead of on what you've worked so hard on.
For example, if your objective is to get organic traffic, why add Facebook likes or email open rate? If it isn't part of your current strategy, adding it to your report only adds noise.
Be Visual
They say an image is worth a thousand words, and it absolutely applies to reporting as well.
The most simple graphs are always the easiest ones to understand, so make sure you present your reports with clear graphs and charts.
Add comments and notes
Don't let your clients just wander around in your report without any guidance. Add comments and notes throughout the report so that your clients know exactly what they are looking for and what it means.
Note: if your comments are clear and concise, your clients won't have any follow-up questions. More time to work on your strategies!
Customize your report design
This isn't for everyone, but if you are looking for that extra "wow" effect, why not get a custom white-label design for your reports. That way, not only will your reports look amazing, but your clients will think you've made it all by yourself (even when you've used an automated reporting tool!)
Get feedback
As with every relationship, communication is key! Whether you are sending these reports to clients, your boss, or your team, it's always important to ask them for their feedback.
This is not only to make sure they understood the report, but also to answer any question, and improve your report and how you display the information as you go.
Evolve
Since nothing is set in stone (particularly with digital marketing), your report shouldn't always stay the same. Make sure the information displayed is always relevant.
Your objectives, channels, and campaigns will most likely change year after year, so your reports should evolve with them.
Get a tool that'll save you some time
Of course, you can do all that with an excel spreadsheet or a google doc, but do you really have that time?
Choosing the right reporting tool for your needs can save you hours of work that you can then use on your campaigns.
Ask for help
Knowing how and where to find help from reporting experts can drastically elevate your reporting game.

There is more than likely a reporting expert around the corner that wants to help you. If you're ever asked: "Do you need help?" please say "yes"- you don't know where this might lead you.
Note that the customer service team from the reporting tool you use might provide you with a few new tricks that could end up making a big difference.
Now, the sky's the limit!
Your reports should now be absolutely mind-blowing, it's time to reap the benefits and impress everyone with your expertly crafted reports!
---
Check out more information about DashThis here!