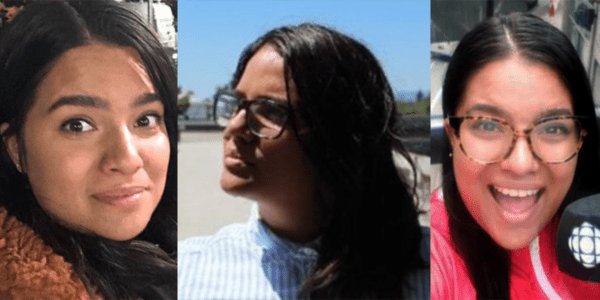 Sonya Hartwig – Story Producer, CBC
"There is a huge push for diversity on the news floor. The industry is notoriously monochromatic, but it's changing and fast! "
---
What inspired you to start your career at CBC?
I've always been super artsy…but also super academic. So, when I was doing my BA at SFU and heard about the Gzowski internship with CBC… it felt like the perfect way to honour both parts of myself.
I also remember when I was a kid, waking up on Saturday mornings to my mom doing housework and listening to Radio-Canada (French version of CBC). We would always discuss the artists, musicians, authors, & activists together. I loved discovering new ideas that way. I liked informal learning opportunities like that. I've always been super curious about everything. I was also one of those kids who'd always be asking questions. So, my mom jokes that of course, I became a professional question-asker!
What was your first Media-related job?
Hmm…depends what you consider a "job".
In highschool I was always reading and writing, and involved in the performing arts. My first grown-up media job was doing communications for SFU's Health & Counselling department. Another one of my passions is mental health, so it was really exciting for me to create health promotion tools for students, and get important health-related messages to them.
What has been the biggest challenge you have had to overcome?
Learning how to stand up for my stories.
When I first started pitching stories, I wasn't confident enough. I was new to CBC, and new to journalism. As a mixed-race person, I also thought that my experiences and interests were too "strange" to be of interest to the status quo. But, I've learnt that it's my superpower! I bring in a very unique perspective. If I love a story idea, I just say it loud and say it proud, and see what they pick up. More often than not, my enthusiasm sells the story. (and if not, I often pitch it again later on when the timing might be better)
Also, moving from academia to broadcast journalism was a challenge. I basically had to re-learn how to write. It's called writing "for the ear" not "for the eye". I was so used to writing academic papers after my BA, that my writing style was extremely "verbose". When writing something that will be read out loud, things need to be extremely concise and to-the-point.
If you were not in media – what industry would you work in?
Hmmm I love healing through storytelling, so probably a counsellor or psychologist. I also love education and knowledge, so perhaps a teacher or librarian.
I'm also a big star trek fan, so I've always fantasized about being an astronaut haha. But I'd settle for playing one on TV!
You see? I'm interested in everything! That's why journalism has been great for me.
What has been a highlight of your career?
Definitely getting the Gzowski Internship. It felt like a dream!
The internship selected only 4 students across all of Canada, so I felt extremely lucky to be selected. I had always thought I'd make a good journalist, because I'm both empathetic and extremely curious, but thought it wasn't within my reach
They flew us to the main CBC headquarters in Toronto, for "journalism boot camp". The experience was absolutely amazing. The opportunity to learn about the industry was extremely empowering. And it continues to empower me with every new interview I have the pleasure of doing.
What are 2 things you wish others knew about your career?
1) The pace.
Journalists work at an extremely high pace, with super tight deadlines. I wish it wasn't that way, but it is. So, if you want your story on the air, you need to answer your phone when we call. Now….as a person who LOVES disconnecting… I totally understand the struggle. To give you some context, at CBC Radio, we normally have pitch meetings in the mornings before 10 am, and need to book the interview before noonish (depending on the show). If we can't reach you at that time, your story will probably get bumped.
2) Journalists get news-ed out too.
I used to think that to be a journalist, you need to enjoy being in the loop 24/7. I thought needing a break from the news meant you weren't cut out for the job. But since talking to others in the industry, and I learnt better. It's normal to need a break sometimes, especially when it's the thing you do all day. To other journalists out there, it's ok to turn the news off after work, in order to stay sane!
What are your predictions for the future of your industry?
I'm seeing some amazing changes happening.
There is a huge push for diversity on the news floor. The industry is notoriously monochromatic, but it's changing and fast!
I can tell the CBC is working really hard to fund more diverse content and diverse journalists. For example, there are currently fellowships for early-career Black journalists, and they also have indigenous j-school.
As a mixed-race person, I've never really fit in a single category. So, it really inspires me to see so much effort being made to capture more complex intersections of identity in our news stories. It's really exciting!