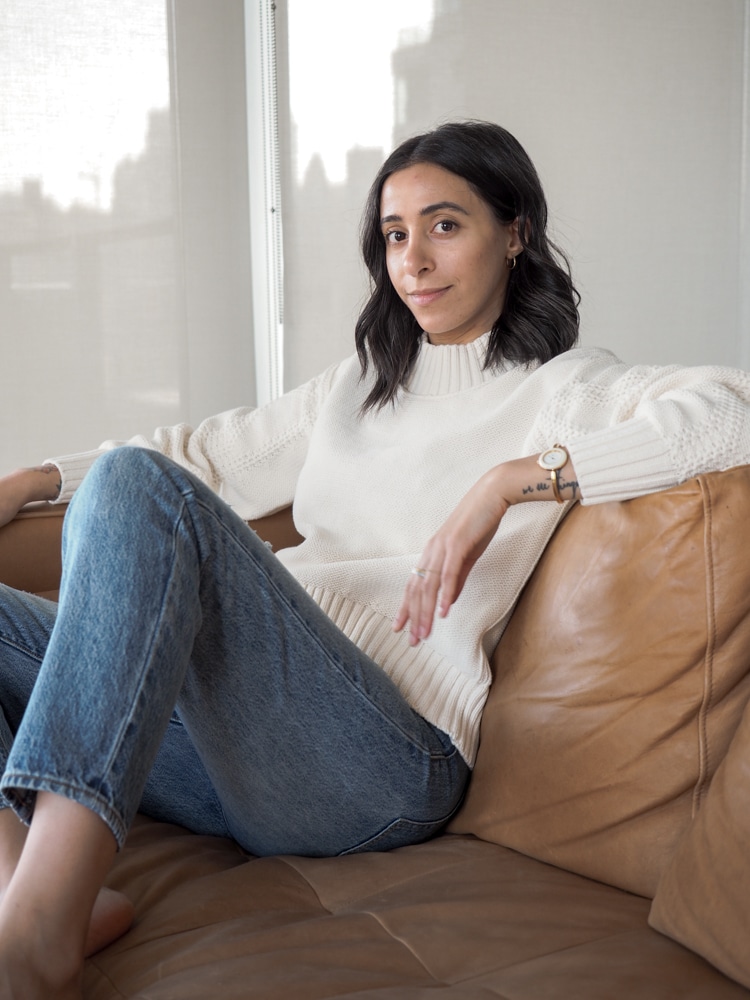 What inspired you to start your career as a sustainable fashion influencer?
I have an extraordinary career as a fashion blogger. It wasn't until 10 years later that I spotted the negative effects of my actions as an Influencer. In 2018, I was prepping my closet for a Blogger Clothing Sale. I removed nearly 85% of my wardrobe! These clothes were gifted to me for free or with payment so that I could promote others to consume and this reflection of my choices did not sit well. I was determined to make better choices, less consumption and re-evaluate my values as an individual to become better for the planet and my readers.
What motivates you?
Motivation comes in so many forms! From my health, happiness, success in career and relationships. It's the people around me and the goals that I set for myself that motivate me. I want to do better for myself, first and foremost and that has an incredible trickle-down effect onto others around me.
What are two things you wish others knew about your career?
One, it takes a village! I hear quite often "you are so busy" or "you are doing so many things right now" but I don't do it alone. In marketing, events and blogging, I have a team of people who support me and work to execute what we have going on. Second, it takes a lot of hard work to get to do what I do. Sure, there are some "right place, right time" moments but I've hard to work hard to even get my foot in those doors.
Can you tell me about your favourite collaboration so far?
This is a tough one because I've had a handful of favourites. Top of mind and current collaboration is with the city I was born in, Metro Vancouver! They are using their resources to educate our city on what happens when we throw away our clothes. Seeing the reactions people have when they discover the stats and options is truly inspiring! I am very grateful to be a voice for them.
What are two tips you want to pass along to PR professionals and brands that send pitches?
It's okay to make it personal! We want to be as professional as possible but sometimes that can come off as cold. The best relationships are authentic and warm, so add your personality into your communication. I also think it's beneficial for everyone involved to acknowledge that creators put a lot of time and money into what they do for brands. A lot of time, this can go unnoticed.
What does a day in the life of an influencer look like?
Oh gosh, it's always different! I've put my entire life on display from what I'm wearing or eating to even the facial hair that grows on my chin. Inspiration for posting can strike at any moment. My day is shared with blogging, marketing for CIEL and planning for ARCHIVE so I am always juggling a task or an email.
What are your favourite apps?
If we're talking more generally, then I am not afraid to say that I have hit level 981 on Bubble Shooter!! I'm obsessed. Otherwise, Instagram and Bunz (trading app).
Can you share two things everyone can be mindful of when it comes to fashion sustainability?
The most important is to talk to yourself before you consume something. Is it a need or a want? If a need, can it be consumed another way? For example, I need underwear but I don't want the packaging. So how can I consume my purchase without the packaging? I locate a store that sells them as separates and I take my own bag. It's also critical that we ask where it is made and how it is made. I prefer to purchase natural fibres (not synthetic) and when possible, locally made.
What is your favourite way to unwind after a long day?
TV! I love television. I enjoy watching episodes of my favourite shows and just hanging out. I work from home and close the door to my office at the end of a work day. I don't put pressure on what I do after that.
Follow Randa Solloum:
Instagram: https://www.instagram.com/randasalloum/
Twitter: https://twitter.com/randasalloum
Facebook: https://www.facebook.com/randasalloumblog
Pinterest: https://www.pinterest.ca/randasalloum/
Youtube: https://www.youtube.com/user/randasall/videos
Blog: https://randasalloum.com/