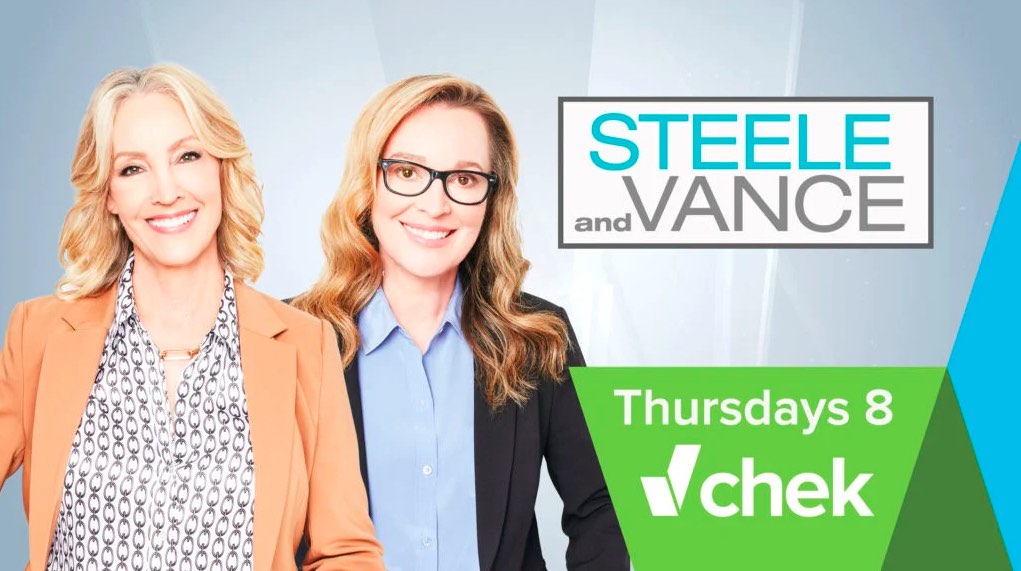 ---
You recently started co-hosting a brand new show, Steele & Vance! What inspired you to pursue this new talk show? How have the first few episodes gone?
I left my job hosting the afternoon drive on CKNW because my dad's in long term care struggling with dementia and I needed to free up more time to spend with him in his final months.  
I don't regret that decision, it was the right call, but after three decades spent working in a fast paced media job, I was feeling creatively stifled and stressed. I wanted to find a new challenge that would get me excited again, but still leave enough time to make sure dad was properly cared for. A weekly current affairs show? Hell ya – that sounded perfect. We were thrilled when Chek TV offered us a prime time slot.
The first show was hectic but exciting!  Jody and I spent months planning, prepping and rehearsing, so it was thrilling to see it all come together.  And to have Jann Arden as our first guest?  Couldn't have asked for more.  Jann is a delight.  Authentic, inspiring, hilarious and wise.  We love her.
What do you hope people learn and take away from your new show?
People are so polarized and angry these days. The discourse is often toxic, and many people have simply tuned out the news. So the basic premise of "Steele and Vance"is that we'll consume the news for you, and break down what you need to know in an interesting, informed and engaging way. All you have to do is find a comfy place on the couch and join the conversation.
It's really an unfiltered opportunity to reflect on the news of the week – a chance to decompress, take a deep breath, and share a few laughs.  
What inspired you to pursue a career in media and communications?
I guess you could say I'm a natural born storyteller who has always been drawn to the media.  I'm deeply curious and love to hear other people's stories.  I also crave excitement and variety in my life, and the media provides that in spades.
One day you're reporting on a new medical breakthrough, the next you're trudging through a forest fire, chasing a politician down a corridor, or interviewing an astronaut.  Your job gives you access to fascinating people that you'd never meet otherwise. 
I've sat knee to knee with two Prime Ministers, had lunch with Rudy Giuliani (before he turned Trump crazy), been kissed on the lips by the late talk show host Larry King (an on camera embarrassment captured by a full scrum of reporters and cameras), and shared a cocktail with James Bond himself.  (I was an emcee at a UNICEF event and got to spend several hours dining with the late Roger Moore).
It's like having a hall pass to access amazing people and events.  I've had a front row seat to history in the making.
What do you enjoy most about being active on Twitter? How has your relationship with twitter changed over the years?
I have a love/hate relationship with Twitter.  In the early years, it was a fun way to meet new people, get story ideas, and reach out to people I wanted to interview.  I've met people on Twitter who've become friends!
Twitter in 2022 is a more challenging beast.  It's still often engaging, surprising, informative and fun – but it can also be toxic, abusive and nasty.  Like most female journalists, I've occasionally been targeted by trolls who spew hateful misogynistic rhetoric.  I've been around the block a time or two, so I can handle the insults (block/mute), but lately it's escalated to threats of physical violence, and I've even had to contact police.  That's not okay.  BIPOC female journalists take the brunt of it.
What is one thing you wish others knew about your career?
I wish people knew that media bosses DO NOT tell journalists what to say.  DO NOT push a particular political or ideological agenda.  It simply DOES NOT happen.  Sorry to yell in upper case, but I'm so tired of the #fakenews narrative.  I wish people knew that journalists care deeply about accuracy and getting the story right.  Facts matter.  The truth matters.  I have made a handful of errors over the course of my career, and believe me, they have kept me up at night.

Journalism is a calling, and despite what some may think, it's a noble profession.  Ethics are important.  People who think reporters are biased are confusing editorial comments with news.  If I am writing a column, hosting a talk radio show, or co-hosting a TV current affairs show, I am being paid to have an opinion.  If I am writing, reporting, or reading the news, it's facts only.  Opinions are verboten.  It's always been that way, but in an era when people are angry and polarized, they can't seem to tell the difference between the media roles anymore.  They're incensed when an editorial commentator expresses an opinion that doesn't jive with their own, and think it's proof that "all" media are biased.  We have a big media literacy problem these days, and I'm sad that the public has lost trust in the profession.
If you were not in the media, what industry would you wish to work in?
Oh – good question!  In a fantasy world – I'd love to be a singer-songwriter, or the captain of an NHL team.  In the real world?  I'm struggling to think of another industry that would offer the variety and excitement that media does.  My career has allowed me to experience what it's like to be a firefighter, surgeon, police officer, pilot, politician – and the list goes on.  Journalists are jacks of all trades… pick a subject and we have a fabulous cocktail story to tell about an assignment we've been on.  So the truth is, I wouldn't change my life even if I could.
What has been the biggest change in media since the start of the pandemic?
We've learned that we can do our jobs virtually if need be. It used to be that iPhone video or Zoom interviews were not considered "broadcast quality". Now we're in an era of "citizen journalism", where anyone with an iPhone can capture important video that's used on air. That relaxation of technical standards has helped us gather news, and tap guests wherever they are in the world.
On a personal level, the pandemic made me realize how much I needed and craved face to face contact with colleagues and guests.

At CKNW I was forced to broadcast from home for four months.  I hated the social isolation and lost both my appetite and ten pounds before being allowed back in the studio. That made me happier, but I wasn't allowed to have any in-person guests.
It's tough to build quick rapport and trust with someone you can't see.  It's difficult to tell if they are pausing because they've finished their thought, or if they're about to say something important or emotional. 

The pandemic era of virtual interviews has sucked a bit of the humanity out of the news gathering experience.