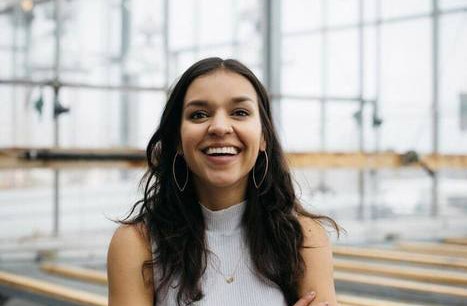 Katherine Singh is the assistant editor at FLARE Magazine.
Based out of Toronto, Katherine has been in her position at Flare for a year where she pursues her passion for lifestyle journalism.
---
What inspired you to start your career at FLARE?
Growing up, writing was always something I was interested in pursuing. I started writing a novel in grade 6 and presented my dream to be a journalist in grade 7. Back then, I expected to be more of an Anderson Cooper style journalist rather than lifestyle, but I grew up reading magazines like J-14 and Harpers Bazar. I had always loved these two interests separately, but I had never put together that they were both areas I could work in as a journalist. In my final year during my undergrad at Queen's University, I became the editor-in-chief for the campus magazine, MUSE. I applied for the role on a whim, but I ended up getting it and it quickly became one of my best life experiences. Being present for the content shoots and being able to write and curate stories opened my eyes to lifestyle journalism. Because of this role at MUSE, I applied for my master's in Journalism at Ryerson University.
What was your first Industry job?
I would consider my role at MUSE, the small publication on Queen's campus, to be my first industry-related role! We put out two print magazines per year, which I got to put together from start to finish. MUSE allowed me to be present through every level of production! My next industry role came as an internship for my master's degree at FLARE. Starting in the summer of 2018 the internship allowed me to try my hand at less traditional media outlets. I had been a reader of FLARE and saw it as a great opportunity. In my final year of the program, I stayed on at FLARE as a freelance writer. I kept freelancing until I was hired as the assistant editor.
What has been the biggest challenge you have had to overcome?
The biggest challenge I've had to overcome would be imposter syndrome and self-doubt. I'm sure that a lot of people and women feel this way in their own career fields. I'm lucky to have been given the opportunities I have had, but it's taken a lot of hard work to get where I am today. That being said – I'm still always surprised when people reach out to chat or for an interview. Despite my hard work, it sometimes feels pretend. But I'm continuing to work hard to overcome these feelings.
If you were not in media – what industry would you work in?
If I were not in media, working as an editor, I would work in publishing. As someone who loves reading, I would love to be a book publisher. I also studied English literature at university and am obsessed with the tv show Younger (which is about a publishing house), so it seems like a field I'd enjoy.
What is one thing you wish others knew about your career?
When it comes to lifestyle journalism, I wish that people understood that it is serious journalism. Many people comment on it as being "fluff" journalism, but it is a serious career field. In my work, I'm so lucky to have countless meaningful encounters and experiences with people and cover a variety of issues that I never expected to cover. People don't realize how you can look at the world through the lens of lifestyle journalism. It has taken me a lot of work and time to get where I am now. I was fortunate to be noticed for the extra time and hours I put into my work and internship. I have had great mentors, but being a journalist is a tough industry.
What are your predictions for the future of the media industry?
Unfortunately, the media industry is already small and I believe that it will continue to get smaller. This year has not been the best for journalists. There have been a lot of budget cuts and layoffs. I believe the industry will continue shrinking for all levels of journalism. We saw this recently when Elle Canada let go of all of their Toronto staff. The industry is shifting and I expect we will see new forms of media because of it. Newsletters and emails are becoming a new aspect of media and sources for stories and news! They offer a new medium to receive news and content. People pushed out are finding alternative ways to return.
What are 2 tips you want to pass along to PR professionals that send you pitches?
Do your research before pitching! Sometimes people send pitches for something that is not related to anything covered by FLARE. A pitch would be more beneficial if it was in the realm of the publication's coverage.
Don't be discouraged! I can be terrible at answering PR emails. My editors, like myself, are busy people and I often have to set aside my email responses as a separate task. Even if the pitches are good and applicable, sometimes I'm just too busy and miss them! Follow-ups are important for this reason.