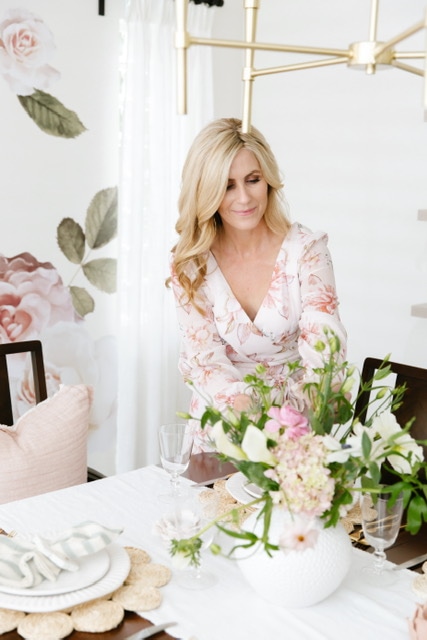 What inspired you to start your career as a lifestyle influencer?
It started out as a creative outlet to share my love for home decor. Along the way, it's grown into sharing so much more! Home decor is still my biggest passion, but I also enjoy sharing food, family, fashion, and travel too.
What motivates you?
Creating something unique and special: to see it through, ups and downs included, and have it all come together beautifully. I love hearing that my tips are helpful and my projects inspire others to try something new!
What are 2 things you wish others knew about your career?
There is a lot of work that goes on behind the scenes! Creating and sharing good content takes time. Also, bloggers/influencers aren't always just trying to "get free stuff". I only share products and brands that I truly love and would recommend to my family and friends.
Can you tell me about your favourite collaboration so far?
This past Christmas, Intracorp Homes asked me to decorate the display suite of one of their new townhome developments for the holidays. Getting to decorate a whole new space for Christmas was an absolute dream! Coming up with a plan, sourcing, and having it all come together for the holiday season was so satisfying.
What would be your dream collaboration?
Ohhh that is a tough one, so hard to pick just one but I'd have to say a kitchen renovation collaboration! There's nothing I'd love more than to partner on a complete kitchen remodel and have it featured in one of my favorite design magazines 🙂
What are two tips you want to pass along to PR professionals and brands that send pitches?
I love that you asked this! If it's an invitation to an event, please specify if we can bring a guest or not. Usually an invite includes one, but sometimes it doesn't and it's just nice to know this upfront. Do respect our worth as influencers/bloggers and ask for our media kit. I'm always happy to work with a brand and its budget to come up with something that's suitable for both of us.
What does a day in the life of an influencer look like?
I like to post a pic to the feed first thing in the morning. I set aside time to comment, respond to comments, and DM's all at once. It helps with engagement and helps me get on with my day. I also love seeing what everyone else is up to! I'll share something in my stories to check-in with everyone, usually my morning coffee or something I'm working on or doing that day. If I'm on the road or making an interesting stop I will share that mid-day or late afternoon. If I'm working on a blog post that day, I might share some BTS or sneak peeks of what's coming up. Other things I do doing the day are: brainstorm blog ideas, edit photos, communicate with brands, share other accounts and blogger friends in stories, as well as any unboxings or products I'm really loving. I also like to share little snippets of being a Mom and everyday life like walks with our dog and what I'm doing for exercise (I love barre!). In the evening I might share a new recipe we tried that night or something we're watching on TV.
Do you have a favourite Disney movie?
Again, so hard to pick just one! I have to go with Beauty and the Beast. It was my daughter's favorite and it really reminds me of when she was little. Also, we loved visiting Belle's House at Magic Kingdom..so good!!
What are your favourite apps?
I use Planoly to give my feed a cohesive look. I usually plan out 2-3 pics at a time just so I know the direction it's going. It's also good for scheduling posts. I use Lightroom for editing photos and applying presets. I also like Unfold for stories when I really want a clean look.
How do you unwind after a long day?
It usually involves wine and candles, two of my favourite things!